Kai Tuttu: Of Love, Food & Moonlit Tales
4 October 2022
Sitting here at my desk, alone in my apartment, I look out the window and see a small flock of red-whiskered bulbuls busily hopping among the thin branches of a listless fig tree. They appear to be excitedly speaking, discussing, informing, and reprimanding, in their sweet language of chirps. The sight of the female birds and their juveniles intimately nuzzling creates a sense of nostalgia, a travel back to a cherished time in my childhood, when my mind was free of wrought judgments, when everyone in the house and every visiting relation was a friend, and when family gatherings were times of joyful commingling.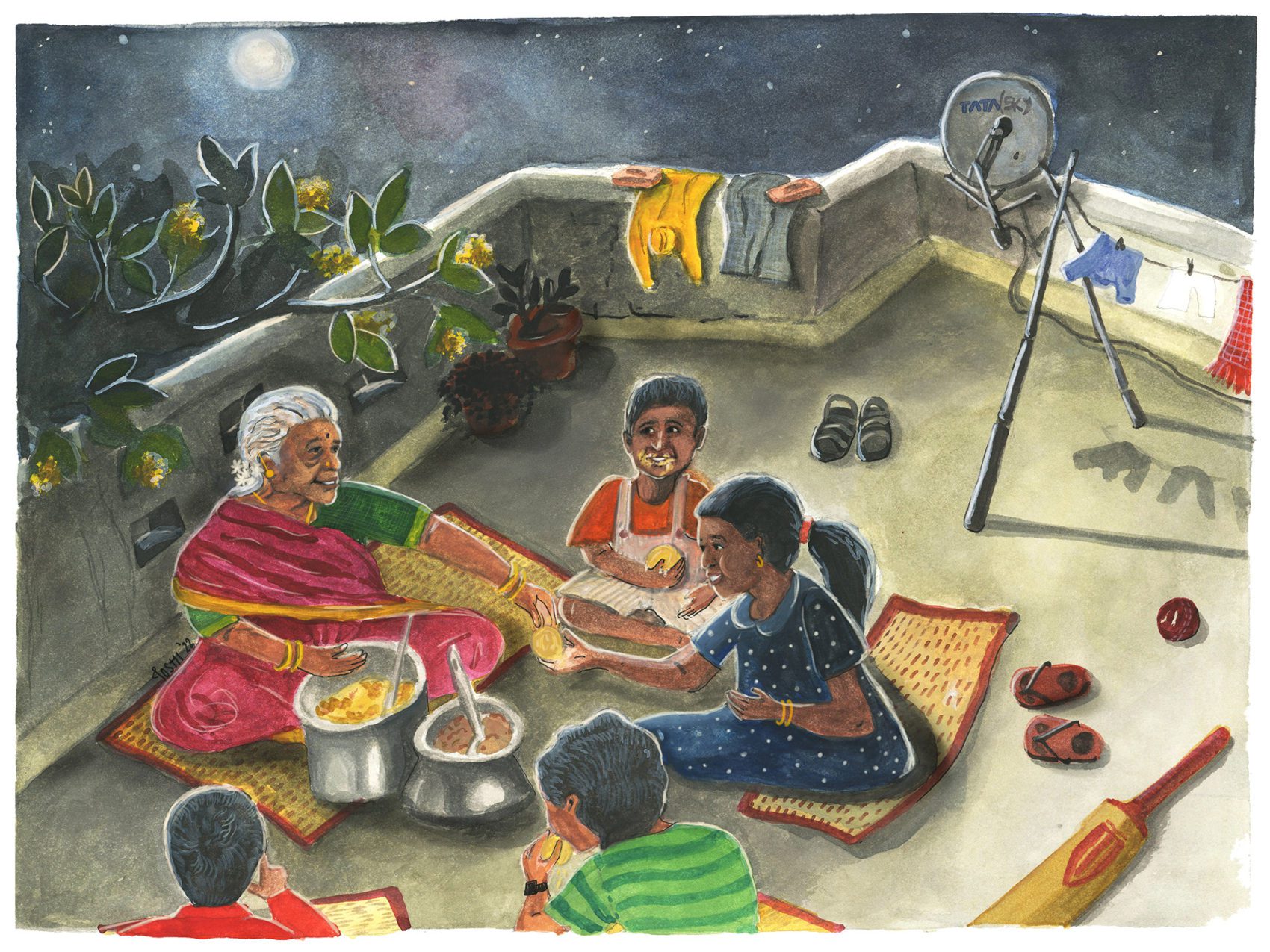 It felt like there was an interconnectedness of ideas about fun from people of all ages back then. The food came from the loving hands of women of all ages, from kitchens that radiated a welcoming maternal comfort, equipped with not just bygone stone grinders, but also the elbow grease of this troupe of affectionate, incredibly enduring women. They cook with the same hands that tended to me.
Just as the soft, warm beams of the rising sun unveil the colours of homes and lives, these hands would also weave art: intricate rangoli patterns outside the front door, vibrant and fragrant flowers strung into garlands. Those hands were responsible for filling the house with the delicious scents of filter coffee, steamed idlis and sambar, of course. The house also smelled of chrysanthemums and roasting coconuts, of the metallic tang of the silver used for the pooja, and the musty silk sarees that have seen no light or air for too long. These scents are symbols of family gatherings, almost like olfactory family crests!  
My paternal clan gathered for festivals, and the women – my aunts, mother, cousins – made the kitchen their territory. Conversations in the house during these occasions ranged from humorous to heated, but mostly innocuous. Still, the atmosphere was exhilarating for children – my second cousins and I (all offspring of my paternal clan's chain of eight siblings!) were thrilled to have all the house to ourselves, with the adults kept busy in engineering the approaching rituals and prepping for the celebrations. 
Nights were extra special because in order to hasten the feeding of half a dozen children, one of the women would always turn our dinnertime magical! She would take us children and two big vessels filled with food – one of rice mixed with curry and the other of curd rice with a hint of lime pickle mixed in – to the balcony. We would all sit on the floor cross-legged, in a curve, facing her. She would be sitting with the vessels in front of her. One at a time, she would form a ball of the rice in her palm, making little pressing motions with her fingers, and start distributing it to each of us in an order – left to right, or right to left. By the time my turn came next, I would have had to finish what was in my hand. That was the rule.
She would do all this while narrating a beautiful story, and so we ate, relishing the food that had so much of the loving touch of the woman in question, captured by the magical stories she narrated. This was also a trick to make us eat more – within the spell of the narration, we wouldn't pay much attention to what or how much was given to us. Her hand motions of forming balls of food and holding them out to outstretched palms would fall into a rhythm with ours. This rhythm consisted of eating quickly off the cupped palm, licking off the smeared curry and curd, and reaching out for more food. Her touch infused so much soul into the food that it tasted addictively good, making us ask for more.
This form of eating intimately in the warmth of an elder became very dear to me, and I looked forward to family gatherings so I could partake in this delightful meal style. Known as "kai tuttu" in Kannada, it roughly translates to "hand morsel",  wherein the morsel or tuttu is a measure of food that one scoops out with one's fingers while eating.
On the other side of the family, whenever my maternal grandmother made her brilliant curry with jackfruit just before it starts to ripen, my cousins, sister and I were treated to kai tuttu. At the risk of sounding cliched, my granny was the best cook and storyteller in the family. She used just the right kind of spices in the right measures and scented the curry with her love. Granny would mash up the flesh of the jackfruit and its soft buttery seeds in the vessel before forming a tuttu. She told us Kannada folktales, passed down to her from her own mother, of the bronze chariot, enchanted pumpkin and many more, in great detail and with theatrics. Great food, and stories better than binge-watching a Netflix series – what more could children ask for?
Again, the food tasted of more than itself. Most Indian customs believe that a person's energy or life-force (prana) is transferred to the meal if eaten with hands. When I think of it now, the life-force of a septuagenarian whose life so far had been all about performing selfless acts and sacrifices, endurance, and above all, loving tirelessly, would have tasted anything but moreish.
Noticing how much I enjoyed the tradition, my family gave me a surprise one moonlit evening, an evening that made all other moonlit evenings shine with parental love. How I miss those magical evenings!
My moonlit surprise arrived on my twelfth birthday. The memory whisks me back…
It's a pleasant February night before the full moon. Rustling leaves reflecting the moonlight appear to be like scintillating fireflies. The garden is mutedly aglow, as if in a monochrome picture. The landscape is pearly; everything bathed in a quiet incandescence. 
I'm plucking the fragrant ginger lilies for a vase when my father calls me from the balcony to join him on the terrace on top of the house. Curious, I go. They are gathered under the moonlight – my father with two big vessels in front of him, my mother and sister around him. Instantly recognizing the ensemble as kai tuttu, I light up like the moon and join them. Tonight, the feast is made up of two of my ultimate comfort foods: mum's beloved bendekai (okra) curry with rice, and curd rice tempered with mustard seeds, curry leaves and chillies, and bedecked with pomegranate seeds. There are also raw onions cut up and ready in bowls – to be crunched on as an essential accompaniment to the okra curry. My father concocts stories of his brave encounters with dinosaurs and retells myths of hidden characters from the Mahabharata. I feel so special – the moon, drowning out the stars, beams its blessing on us and the breeze lifts the perfume of our feast and gives it sillage. Unlike the cheerful excitement I have felt at larger gatherings, I feel an intimate joy, the warmth of a happy nuclear family. And I know I am tremendously loved. 
Traditionally, kai tuttu was practiced by large or joint families, particularly on full moon nights. The eldest woman of the household would preside over the feeding and storytelling. The matriarch in her role of keeping the family together. This beautiful tradition was one of very few that were unblemished by any religious connotation; there were no obligations or rituals to appease a deity. It was done for pure joy and to enrich familial relations. For millennials in South India who recall it, this may feel like a cultural tradition that at the turn of the 21st century, suddenly disappeared. The reason may of course be changes in lifestyle, but it feels reassuring that it still exists in little private gatherings, moonlit or not. My mother treats my little niece to kai tuttu every once in a while. Occasionally, I see it taking place on the terrace of a house in the neighbourhood. And I feel, in the present age of endless digital entertainment for children, where they are more apt to take delight in bright screens that leave them sore-eyed than in the pages of a story book, where devices are replacing human contact, there's all the more reason to introduce them to whatever tradition we've learned that encourages kinship among different ages and relations. 
Gathering around food, or rather, for reasons of food has existed as long as we have. Even beyond traditions like kai tuttu, they are more frequent, present throughout quotidian routines: mealtimes would invariably result in members of joint families gathering; cooking for the household would need more than one pair of hands and as a result, the kitchen would be a ground for creative and artistic expressions. 
Certain dishes were reserved for occasions of gathering, and they still remind me of specific times of togetherness and merriment. For instance, Sundays were for family gatherings over bisibelebath and a simple dessert of payasa. I also think of the pleasant evenings when the churmuri vendor would draw his cart into our lane, ringing his bell, his loud drawls announcing the menu. Neighbourhood kids gathered, as did grown-ups, and engaged in games and conversation, awaiting their orders. Churmuri is a heady, salad-like spicy snack. It is made with puffed rice, grated carrots, finely diced onions, tomatoes, coriander, peanuts (these are known as "congress" – I've no idea how the name came about, but congress is peanuts roasted in turmeric and other spices), lemon juice and a green chilli sauce mixed in as dressing. This snack is served in cones formed out of newspaper pieces. Having purchased our share from the vendor, we would then walk the streets together, scooping out the mixture with our hands, savouring the burning sensation on our lips, trying to talk through it as the flavours burst in our mouths, shooing off flying termites that swarm before rains. The churmuri vendor came year-round. But there were also seasonal gatherings around food for us neighbourhood kids, like the early-mid monsoon, the season when we would go foraging for small gooseberries, which we would smear with salt and chilli powder. We loved to suck on the exceptionally sour berries.
All those different memories, all those different flavours and aromas, come rushing back to me as I watch the bulbul feed its children, and I get hungry.