Turning Trash into Triumph: The Unyielding Spirit of Samantha Iyanna and Clean Coonoor
30 August 2023
In the midst of Coonoor's breathtaking natural splendour, surrounded by tea estates and sholas, a hidden blemish began to surface. A once-overlooked dumpyard, tarnished by decades of accumulated waste, had become a festering sore in the heart of this Nilgiri paradise. In 2014, moved by the incongruity of litter marring her beloved hometown, Samantha Iyanna embarked on a journey that would transform not only the physical landscape but also the collective consciousness of the community.
Her initiative, 'Clean Coonoor,' began modestly but soon blossomed into a transformative endeavour, culminating in the ambitious dumpyard project. With dogged determination, resourcefulness, and the support of generous well-wishers, Samantha and her team managed to metamorphose a once insurmountable dumpsite into a symbol of hope and renewal: gardens, eco-park, waste management infrastructure, and a beacon of sustainable beauty.
In this reflective conversation, Samantha Iyanna speaks to us about the intricacies of her journey, delving into the challenges, triumphs, community dynamics, and the awakening of a town to its environmental responsibilities. She reveals the story of 'Clean Coonoor,' a narrative that transcends mere cleanliness, becoming a testament to human will, creativity, human stewardship, and a profound connection to the earth. 
Ramya Reddy: Samantha, it's an honour to welcome you to our journal. As a dear friend and a change-maker in the Nilgiris, I've seen and admired the transformation you've led through 'Clean Coonoor.' Can you share with our readers what ignited this journey?
Samantha Iyanna: Thank you for having me Ramya. The spark in me was ignited in 2014 when I saw my beautiful Nilgiris being tarnished by litter left behind by tourists. I joined a small, committed movement  at Sims Park. The rest, as they say, is history. But it was more than a reaction; it was a realisation that I had to give back to my home and place of birth.
RR: Was this initiative organised by citizens?
SI: No, it began modestly with just us – a few dedicated individuals who felt a deep connection to the issue.
RR: At what point did you decide to fully dedicate yourself to this cause and do tell us about the seminal dumpyard project!
SI: It began with unblocking drains and culverts caused by soil erosion and human disdain around Sims Park, Bedford, and the railway tracks. In months of laborious weekend contributions, we managed to clean 12 culverts with the help of amazing  voluntary citizen participation. But community interest waned when the job became monotonous.
The Coonoor river cleanup in 2018 was an eye-opening experience for us. We pulled out roughly 18000 tonnes of waste accumulated over more than 50 years.
But the real turning point was our dumpyard project. It seemed financially and logistically an insurmountable challenge, but serendipitously, a generous  donor believed in investing in our vision for the community's future and funded the entire project.  With the support of the Municipal Health Officer, the resulting mechanised operation transformed what once was a blight in the heart of Coonoor into something beautiful and sustainable, a flower garden and the Resource Recovery Centre (RRC); a symbol of hope and potential. As of today, half of the site has been restored with one acre of gardens, two acres of the eco-park and lawns, and two acres of waste management infrastructure and roads. The rest will be restored in the coming years. The project has  positively impacted the environment as well as the value of the surrounding land. This donation was a game changer that now continues to drive  our efforts in conservation and community building. It stands as a testament to what can be achieved with determination, creativity, and such; along with support from corporates, philanthropies, individual philanthropists, and passionate well-wishers, whose contributions fund nearly 80% of operational costs. Hopefully, we can be self-sustaining one day.
Above: The thriving garden (nurtured by the compost generated from the town's  wet waste) at the Resource Recovery Centre has replaced an erstwhile dumpyard of decades
RR: How bad was the physical location itself and how long did the project take ?
SI: Fortunately not very widespread and  confined to one hill, so relatively easier to handle. The entire hill was covered in trash right up to our centre, though with an accessible road to the panchayat. It took a couple of months. The municipality provided the shed, and we added the machinery, flooring, fans and lights through donations. The site we cleaned up was Coonoor's official landfill, designated as such since the 1930s.
RR: That's remarkable. It's quite shocking to think of all that waste, especially in such a prime location with a fabulous view and a rich history. Did you manage to clear all the waste dating back to a time when it was mainly biodegradable?
SI: The site's condition and location were unique, and presented numerous challenges. It was subject to various elements-cold, wind, a sharp sun-and had layers of materials underneath. When we started, it was even smoking and burning due to the methane gases. But yes, we managed to clean up several decades of accumulated waste. It's something we couldn't have anticipated at the beginning. But it was worth the effort. The transformation has been profound, and it speaks to the potential of what can be achieved with determination and community support.
RR: Maintaining volunteer engagement, local enthusiasm and facing criticism, even from friends, must have been challenging…
SI: Yes. We dealt with different types of locals: those who disregarded our efforts, those who wanted to volunteer but couldn't and those who actually did. Criticism from people I knew personally was hard to take, but I've moved past that, thanks in no small part to my father's unwavering support. There were times when I would return home filthy from working in drains and culverts, covered head to toe, using only gloves. I got past all that. People observed our exhausting efforts but continued to dump garbage and pollute the river and public spaces. It breaks one's heart. 
RR: How have you navigated the complex issue of volunteers and citizen groups, and how are you trying to change the mindsets of the younger and older generations?  
SI: It's been challenging, but my commitment to the cause keeps me going. The station headquarters and the cantonment has started doing some cleanup now, and we collaborate with them.
Engaging young volunteers has been tough, especially during COVID. Parents have been resistant. I've tried communicating the importance of educating children, but the response has been frustrating to be honest. 
People's attitude towards littering, especially in the forest, baffles me as does their hostility when I try to highlight children's attitudes and careless behaviour in general. Education is key. Children are so welcome to visit our Centre. Hopefully it will open their eyes to the challenges we face with the amount of waste even in a small town like Coonoor. Schools must  focus on waste management and environmental responsibility and join hands with parents and the society at large to spread the message that this movement is for the environment as well as for instilling a sense of value,  spirit and pride in our community. This is OUR world, our own biosphere. It's OUR home.
RR: Real change has to start at the grassroots level, don't you agree? If parents decide to bring children into this world, shouldn't they also take responsibility for teaching them to be responsible citizens?
SI: As children, we cleaned our classrooms. It made me realise I was responsible for contributing to a healthy environment. It made me care.
Today's parents perhaps  overcompensate for their own past hardships by allowing their children greater freedom at the cost of  essential values. There should be a more balanced approach. Struggling lower classes perhaps don't want their children to face the same hardships, but it's hard to understand how many (but not all) of the privileged lack awareness or responsibility. The issue cuts across social, political and other divides.
RR: How have the locals reacted to the remarkable impact of Clean Coonoor since 2014, and what would you expect from them?
SI: It's a perplexingly mixed reaction. Some question why I'm doing the municipality's job, others respond positively. Littering habits have not changed enough in spite of our best efforts. For example, videos about plastic pollution don't  seem to have any effect. I wish all residents would ensure their garbage reaches the municipal trucks and there is more awareness about segregation. The truck drivers are more conscious now, but work remains to ensure proper segregation and conscious dumping.
RR: Having witnessed the waste disposal and the RRC first hand, I was astonished at the volume of dry waste, particularly those low-value plastic sachets and the effort involved in segregating them!
SI: Those little plastics are a menace. Single-use plastics are convenient, and dangerous. Those Shakti masala and shampoo sachets, and tiny candy wrappers are everywhere. All the local car washes you see? They use the shampoo out of these sachets to wash the cars! And all of this plastic eventually reaches the ocean. I've found milk sachets from 10 to 15 years ago still polluting the water. It's like "out of sight, out of mind" for most people, and they don't realize that the water carries it into the ocean.
We've done extensive cleanups, but they keep reappearing. Why do Indians, rich in culture, have this peculiar littering mindset?  A town can be dirty, but their homes must be clean. I find it difficult to understand!  
RR: What keeps you and your team going in this thankless job of working with litter? Are your workers, who are  from lower-income groups now practising better waste management themselves?
SI: Our workers face challenging conditions, dealing with all kinds of waste and toxins. We have a great, dedicated team, working in challenging conditions and we do our utmost to take care of them. Their resilience and the awareness of the positive impact we're making keeps us all going.  At work, we've taught them hygiene and cleanliness. Would be interesting to know what they are practising at home.
RR:  How do you approach people to reverse their actions, and are they receptive?
SI: Some people, especially tourists, get upset when we confront them. Even with fines or penalties, implementing them is a complex issue. What saddens me more is how even religious places, where plastics are banned, still allow them to be used.
RR: It's indeed paradoxical behaviour. I noticed this at a Toda mund a month ago; so much litter in such a pristine place. When I pointed this out, the elders were spontaneously receptive, but still they burn trash, without understanding the environmental harm it causes. It's unbelievably frustrating. How do you keep your motivation going amidst such challenges?
SI: It's certainly difficult, but we're determined. We clean up places like Laws Falls, where the entire town's trash collects. But the prevailing mentality of ignoring long-term consequences is what I don't understand. We need to work on instilling a sense of responsibility and consciousness in the community. 
RR: There are legal cases against some municipalities too, with such trash affecting the forest, right?
SI: Yes, and it's so sad to see cows, elephants, bison, and monkeys eating and  being affected by plastic. People need to understand the link between waste management and environmental conservation, ensuring trash is collected and not dumped, and more collection drives by the municipality..
RR: Have your partnerships  with various local organisations over the years brought any significant change?
SI: We've had clean-ups with railways and station headquarters like the lake project for the Army Station Headquarters, Wellington. But our partnerships are pro bono. We would appreciate donations, but the desire is to clean and improve. Some gated communities pay for trash removal, others assume the services are the municipality's responsibility.
The Resource Recovery Centre and Waste Management Park at the dumpyard site
RR: In spite of your dedication you mentioned monetary challenges. Is a hesitation to contribute financially stem from a lack of understanding about the work you do, or the concept of social responsibility?
SI: It's complex! In our passion to improve our community, we have never actively sought donations even if they would undoubtedly support our efforts. Funds could amplify our reach and impact, but we've observed a certain mindset where people feel that since they're paying a garbage fee, they shouldn't be asked to pay more. Sometimes, gated communities might pay for their trash to be removed, but there is an underlying assumption that the municipality is solely responsible for waste management, and  community initiatives are redundant. It's a cultural and educational challenge,  about people taking ownership of their environment and actively participating in creating a cleaner, more sustainable future.
RR: It's really disheartening to hear about the reluctance of people to invest in waste management, especially when it's so intrinsically connected to ecology and health. Could you delve more into the challenges you face regarding funding, particularly from corporations through CSR?
SI:  The lack of funding is one of the most frustrating aspects of our work. Many believe that waste management is not within their purview, despite the direct link between waste, health, and the environment. Even when it comes to CSR funding, the response is disheartening. We do find support for tribal, health, and other environmental causes, but waste management is often overlooked.
Waste management may be perceived as unglamorous or mundane, compared to other social causes. Others may feel detached from the problem, failing to see how it affects them directly. 
RR: How can people be made to understand the importance of waste management, and what can be done to encourage more funding and support? How do the costs work as of now?
SI: Education and awareness are still vital, but we need to find new and innovative ways to connect with people and companies. Showcasing the tangible results of waste management, demonstrating how it benefits the community and environment, might make it more appealing. Collaborations, partnerships, and transparent reporting could also help build trust and encourage more funding.
Dr. Vasanthan reckons it costs us Rs 2.5 to sort, bale and  transport one kg of trash, but we earn only about 40 paise for each kg of trash.'The deficit needs to be externally funded. If we had a pyrolysis unit, to turn plastic into fuel, in Coonoor, we could easily make up for that deficit. We used to send some of our waste to a pyrolysis unit 800 kilometres away in Hyderabad, who used to spend Rs 5 per kg-Rs 4 to transport the waste and pay us  Rs. 1 per kg.' The unit is shut now and moved to Ranipet. I'd rather send the plastic there than to cement kilns, where it's burned at high temperatures. Companies have Extended Producer Responsibility (EPR) for packaging with plastic, but it's not always done.
Above: Burners at RRC and the new wet waste facility that produces excellent compost
Dr.Vasanthan, Trustee, Clean Coonoor
RR: Can you tell us about Dr. Vasanthan's instrumental involvement and how collaboration has shaped the way you work?
SI: Dr. Vasanthan joined us around 2016 or 2017 and is now committed to the cause full time. His dedication and understanding of the complexities of waste management have been invaluable. It emphasizes the importance of collaboration and finding like-minded individuals who can contribute their expertise and passion.
RR: As we look to the future, how do you plan to  engage more support, both from individuals and corporations?
SI: We're exploring different avenues, such as working with local authorities, approaching more CSR initiatives, and engaging with the community. We're also considering forming cooperatives or self-help groups to make our efforts more sustainable. But above all, we need to keep pushing, innovating, and making people aware of the essential role waste management plays in our lives.
RR: Have you pursued any government schemes such as the Swachh Bharat funds?
SI: There are funds available, but it's complicated to understand where they're allocated and how they trickle down to the district level. It's something we're still exploring.
RR: What about the Nilgiris authorities? They don't handle plastic waste due to transportation costs, right?
SI: Correct. Companies should be paying to transport their own plastic waste, but it's not happening.
RR: It seems like there's a growing interest in expanding your initiative beyond Coonoor, such as Kotagiri? 
SI: Yes, some folks from Keystone have come to observe our work. I'm open to expansion, but it all depends on securing manpower, training, supervisors etc because the garbage disposal crises in Ooty and Kotagiri are multifold and far more complex. Fundamentally, it's a financial issue. At this point it's essential not to lose focus on our core mission. We need to expand our current efforts, including moving into surrounding panchayats like Hubbathalai and Yedapalli.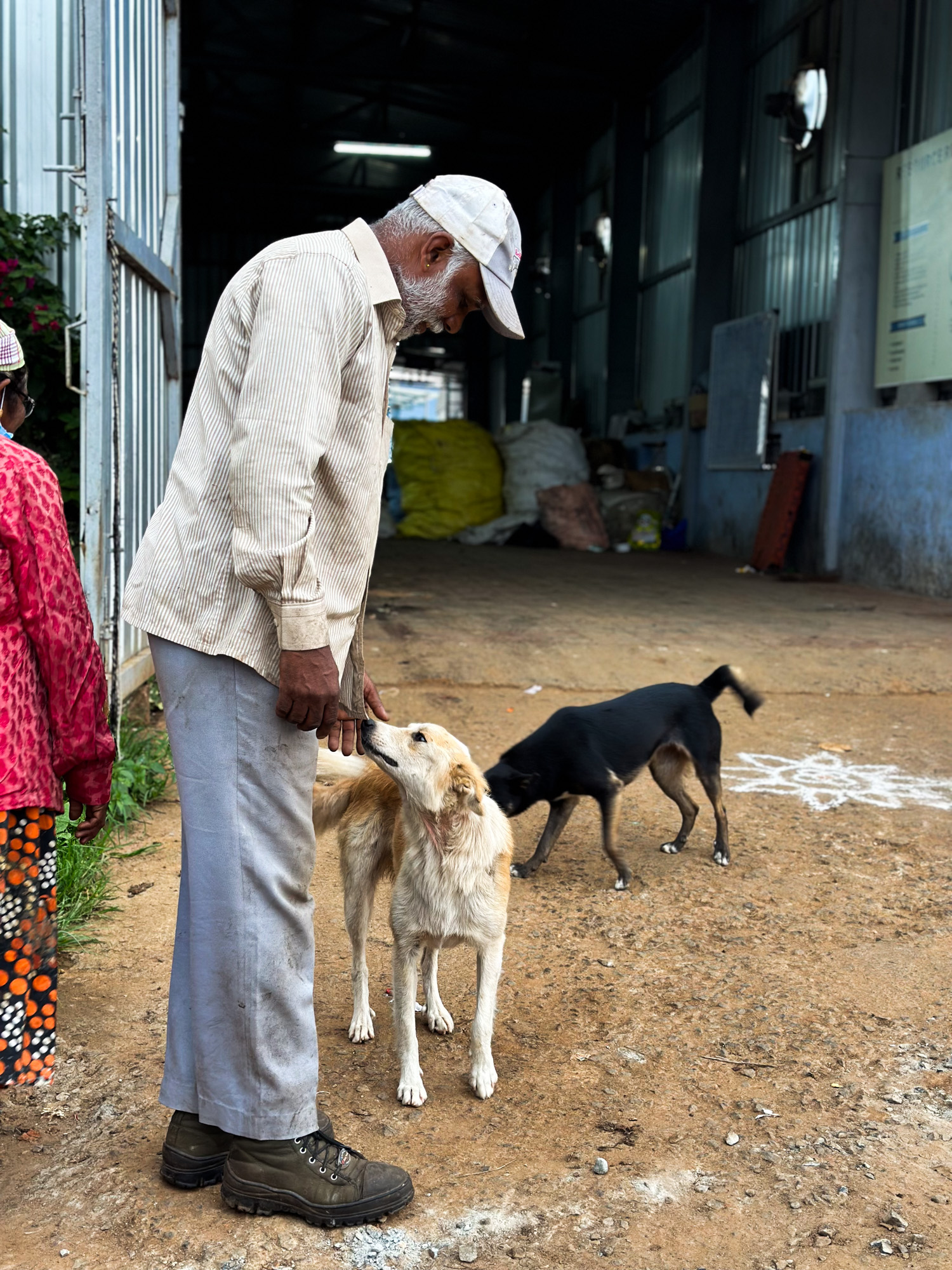 RR: How can citizens play a more active role in supporting initiatives like Clean Coonoor, including funding and fundraising?
SI: Citizens are vital in any community initiatives. It is such an easy win-win for them and the local ecosystem by procuring the compost produced through RRC's wet waste management for their gardens and green spaces. The urban middle class  is appreciative,  but many haven't come to see it themselves. Clubs  should organise regular talks about this movement. We can all collaborate on online or event based fund-raising.
RR: I totally concur that each of us has a responsibility in taking part in, and owning up to environmental stewardship. Samantha, you have made me really think today, and realise that 'Clean Coonoor' is not just an option; it's a civic duty. 
The beautiful gardens are testament to what can be achieved. Is there more the community can do?
SI: Absolutely. Apart from buying the compost and creating a sustainable  revenue stream, the community can  engage in responsible waste segregation, reduce waste generation, and be mindful of what they consume. Educating themselves and others, volunteering their time, and contributing financially can make a significant difference. More importantly, it fosters a sense of community ownership and pride in their active contribution to the wellbeing of their environment.
RR: The connections between waste management, ecology, health, and community prosperity are inescapable. It's time that we recognize this interdependence and act with intention and commitment. Your work cleans Coonoor physically, but is an endeavour to cultivate a more mindful, responsible and compassionate community. 
SI: Yes, we continue to dream, we continue to passionately pursue our social and environmental goals, with or without donations and  hope that people are inspired to become more actively involved.
It's an endeavour that requires the collective effort of everyone involved. Whether it's buying compost, volunteering time, or simply being mindful of waste, every action matters. Together, we can make Coonoor a model of sustainable living and an example for others to emulate.
Above: Ramdev, a worker at RRC and Rani, one of the many resident rescue dogs of Clean Coonoor
Samantha's garden at her Gray's Hill home is a veritable paradise of seasonal  flower-profusions, wise, old trees, vege patches, orchids and rare, endemic plants – ably nourished by the compost generated at RRC
RR: Your work shines a light on what's possible and provides a path for others to follow. I hope the community seizes this opportunity.
I can't end without  letting you know how inspiring this conversation has been for me personally. How do you sustain this unyielding passion in all that you pursue? It seems to flow from you quietly yet ceaselessly.
SI: I wish I could say it's as simple as an innate drive. The truth is, I'm a cancer survivor, and that battle has taught me a profound lesson in perseverance. The journey has shown me the importance of adapting to the ever-changing landscapes of life. Monitoring my health and adjusting to the shifting goalposts has not just become a necessity, but a metaphor for how I approach everything I do. The relentless passion you see is fuelled by an awareness of life's fragility and a commitment to making the most of every moment. I love this land that is my home. Having a cause that is bigger than me is very fulfilling. I'm grateful to have support, and to those who are not yet part of you, please do join us in any way you can. We all love these wonderful hills of ours, let's make them better!
RR: Samantha, thank you for this conversation. Your passion and dedication to our shared home are inspiring. I appreciate all that you do.
SI: Ramya, I feel the same way. Your support and friendship mean a lot. Thank you for standing with me on this journey. Together, we'll make a difference.
.
.
.
.
.
.
.
.
.
.
.
.
.
.
.
.
Samantha Iyanna, fondly known as 'Sam,' hails from Coonoor and stands as a vibrant force for travel and environmental advocacy. As the founder of her own travel agency, YATRA, she facilitates journeys not only across India but beyond its borders. With a background in English literature, her insights are as well-read as they are well-traveled. Sam's journeys have deepened her affection for wildlife, often captured through her lens in nature photography. She actively promotes environmental causes, working closely with organizations like the Wynter-Blyth association and ASTITVA to empower underprivileged tribal women.
At the helm of Clean Coonoor, she focuses on uplifting the town's ecological vitality. She's also a trustee for Kinder Trust and serves as a convenor for the Nilgiris Chapter of INTACH – Indian National Trust for Art and Cultural Heritage. Clean Coonoor has flourished under her leadership, growing from a sanitation-focused initiative into a comprehensive project targeting waterbody health, eco-restoration, and cultural conservation. Volunteers under this initiative have successfully revitalized culverts, restored wetlands, and desilted river branches.
Beyond this, Sam has expanded her eco-endeavors to waste management, contributing to the establishment of a Waste Management Facility. This institution efficiently handles a significant daily load of waste, offering sustainable solutions for non-recyclable plastics and transforming wet waste into high-quality compost.
Sam's dedicated efforts have not gone unnoticed; she's received multiple recognitions, including the Rotary Club certificate, the Kulpati Munshi Award, the 'Green Champion' award from Tamil Nadu's Chief Minister, and most recently, the Sushma Swaraj Award. Through her various initiatives, Sam's deep-rooted love for her community and environment shines as a beacon for transformative change.
To learn more about Clean Coonoor or plan your visit to RRC in Coonoor click here
To buy the compost or support with funding write to: cleancoonoor@gmail.com
Follow Clean Coonoor on Instagram here