Clay and Consciousness:
A Journey into the Sense of Touch
8 September 2023
Listen to this story. Narrated by Namrata Baruah.
Seeking to ground myself at a time of deep turmoil in my life, I discovered the magic of touch.
My therapist recommended pottery, a craft that demands a profound presence in the here and now. It became my transformative path to spiritual renewal, ensuring mindfulness and averting my past darkness. Anchoring me firmly in the present moment.
Focused and determined to be a potter, I began working with the medium. In my former days as a pottery student, my relationship with clay was akin to an infatuation. Enamoured by its malleability, I fell hopelessly in love with everything that I made, emulating a few construction techniques demonstrated by my teacher.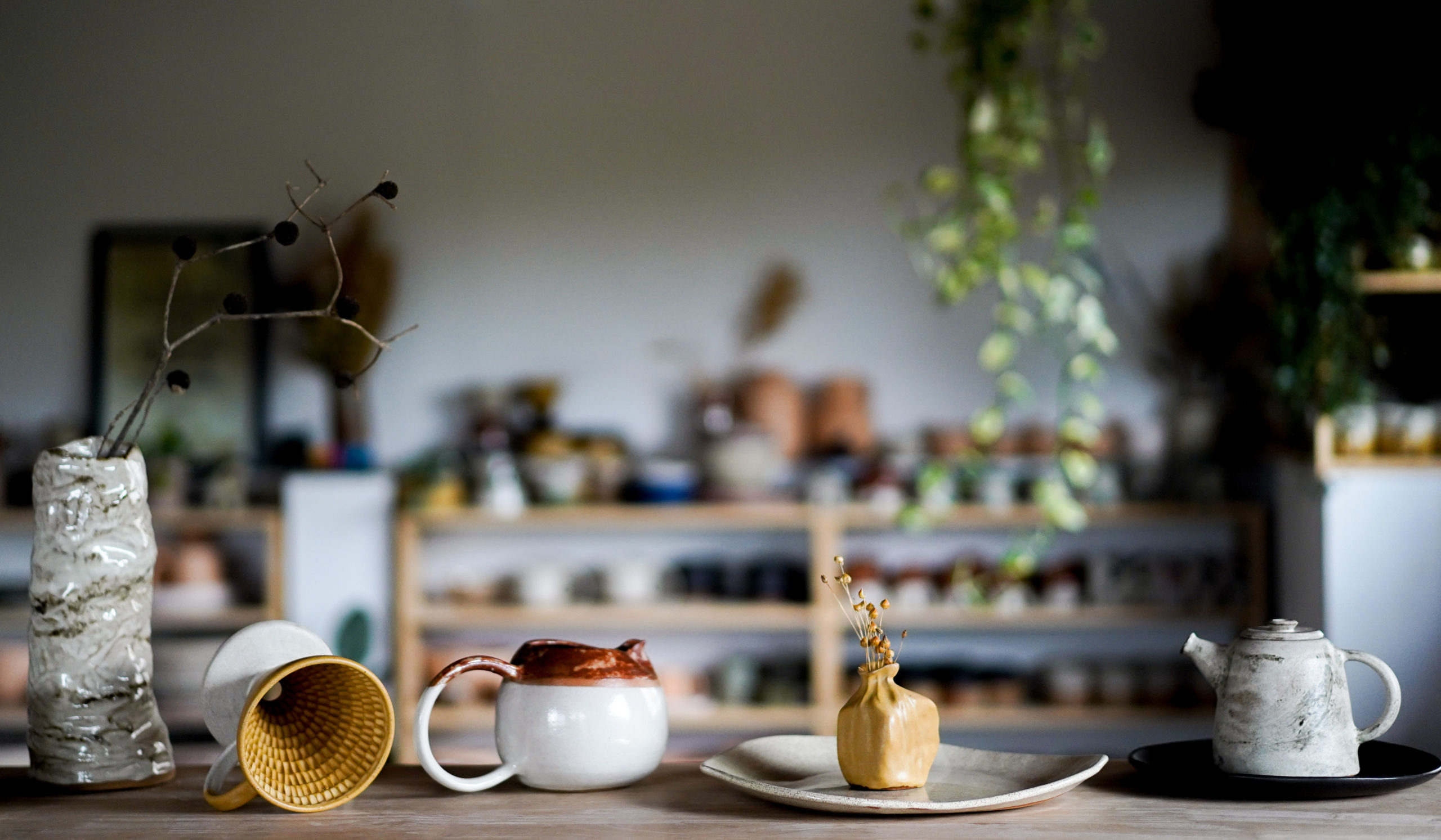 As the days passed, I learnt how much more there was to the personality of clay. Not everything I made would last–pieces developed cracks during drying/firing. Many times, the clay just collapsed in the process, and all of these challenges consumed me. I started reading about the medium, spent endless hours watching pottery videos, and keenly observed everything my teacher did–all in pursuit of getting a better grip on the craft. I practised relentlessly, and while I saw positive outcomes from time to time, the challenges didn't seem to go away. I still found clay unpredictable and confusing. And I realized that instead of being present with my processes, I was once again worrying about future outcomes. The change  I expected through pottery was still a distant reality, obscured by the challenges from the past. Nonetheless, I kept at my craft; it was novel, beautiful and more tactile than I had ever imagined.
Traditionally, when it comes to honing any motor skill, we have been told about the relevance and importance of building proprioceptive ability (one's ability to inform movement and force, relative to body position), with vision playing a crucial role. Endless hours on the wheel left me in a position of comfort with proprioceptive feedback during the process of wheel-throwing. But what was missing was meaningful conversations with clay.
The turning point in my relationship with clay was a blindfolded activity. Can you imagine doing things without vision being the primary source of perception? I couldn't. I vehemently opposed the idea because I was clueless about how I could make anything without seeing it take shape. Eventually though, I caved in, influenced by a more enthusiastic peer group of students. We sat on our wheels blindfolded, and what I experienced then is pivotal to my relationship with clay today. I realised that I had barely paid attention to what I was feeling as I touched the clay. I was spellbound by insights I got from clay as it moved seamlessly through my fingertips. It was communicating with me. I realised I had to break free from the hegemony of vision and start building a stronger relationship with clay through my sense of touch.  That realisation was key in my journey as a potter. 
My approach to pottery transformed profoundly after this. I decided to let my cutaneous feedback be the primary source of input and let vision take a shotgun seat.
Being entirely present with clay, through my sense of touch, mindfully taking cues from this beautiful, porous object of the earth was the most crucial tool to my evolution as a true potter.
Honing cutaneous feedback became the next step. Clay is willing to have conversations with anyone who lays their fingers on it, subject to 'touch' being the mode of communication. Could you ever imagine 'touch' taking the driver's seat in perceiving everyday things in our world, to then further allow us to inform our actions?
Clay's properties change and transform, giving it a new character and personality at different points along its life journey; be it in its naturally found state, when it is in the process of being made into something or even after it has been made into something and fired to last. 
The relationship between a potter and clay, in my eyes today, is like that of two partners sitting together to intentionally arrive at a beautiful new creation through dialogue, deliberation, adaptation and collaboration. Staying attuned to one another through this conversation and journey is key! How thirsty is my clay getting as I am working it? How much water will satiate its thirst, and how much could lead to it collapsing? With what force does it need to be pinched, and how much clay will be displaced by it? Will my creation stay tall or wriggle and fall owing to uneven distribution of clay? Should I communicate with my little finger or my thumb–how gentle or firm a nudge does my clay need? There are innumerable cues that clay gives a potter to inform their actions. When a potter does not listen and adjust based on prompts from clay or recognise clay's presence and autonomy, the process of making will not attain the progressive and open-ended character typical of a dialogue in creation.
With a few years of training and technical proficiency, feelings–not only of respect and care but also of confidence and recognition–have gained in prominence. Having said that, it would be wrong to assume that I know clay in its entirety and thereby, will be able to predict its personality at all times. Akin to humans, clay changes its demeanour in different environments. When human behaviour perplexes, I try to listen without judgement. I probe with curiosity and communicate with empathy. Following the same principles, my dialogue with clay has come a long way in building a robust relationship with the medium. I let my current understanding take the lead but adapt based on new experiences. I experiment with gentleness, and wait for feedback. I keep inquiring patiently if an evolved approach is helping the process.
The beauty and power of touch have not only helped me befriend a craft but also shown me a way to fight my demons. Having witnessed the power of living in the present with clay–understanding how things can be less complicated when dealt with at the right time, learning to trust processes over outcomes, realising that past mistakes are beautiful opportunities to learn new things and to prevent repeating those mistakes–has pushed me to translate my learnings from pottery to other arenas of my life. Today, I strive to always take in cues through several sensory inputs and then inform my thoughts and actions. And in the process, I seek to not let any single sensory input outweigh the others.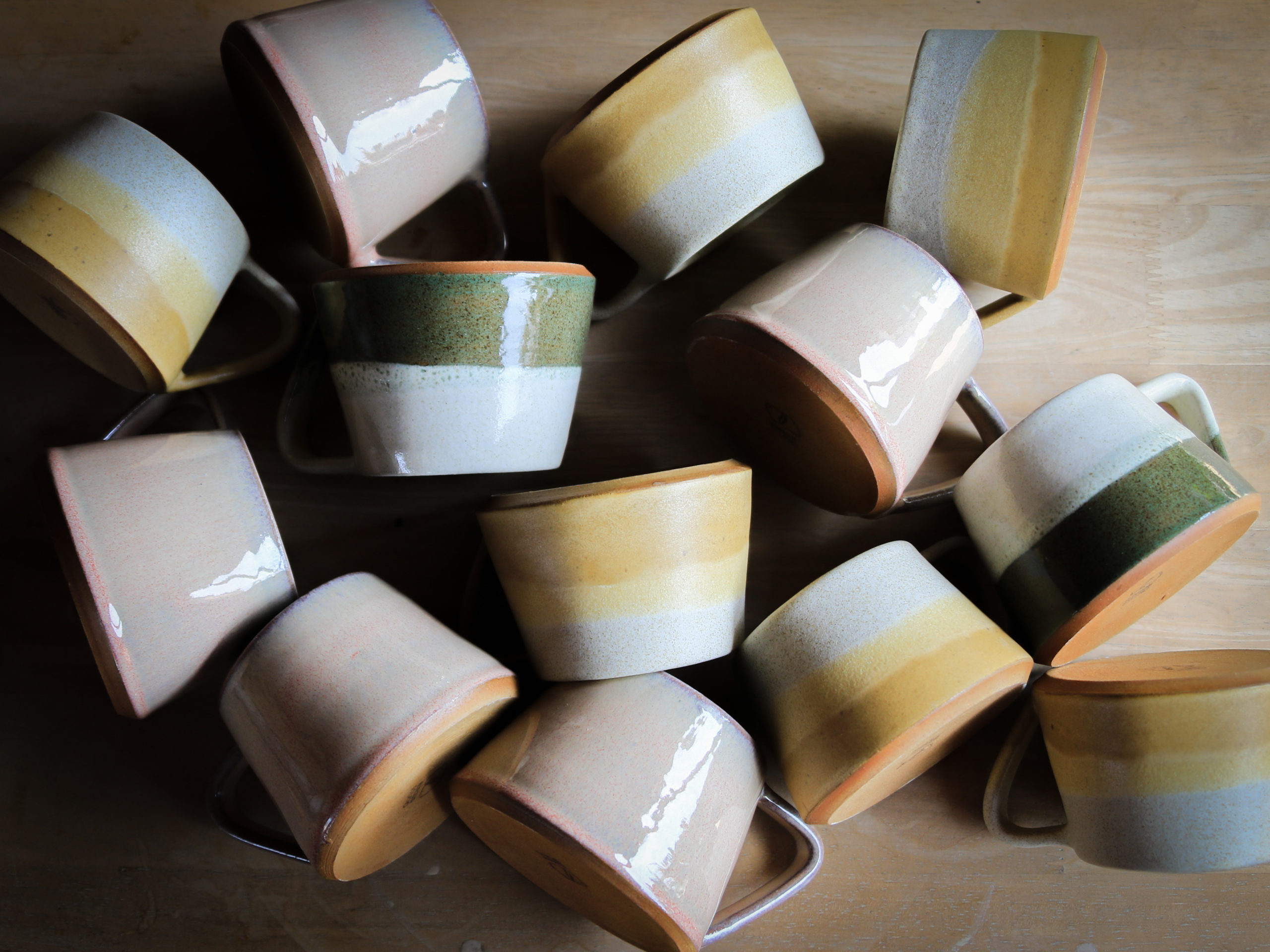 Have you ever wondered why we have grown up biased towards all sensory 'inputs' but touch? With the world ever increasingly adopting devices with touch interfaces, we certainly do ensure that touch doesn't become obsolete, but is the role of this critical sense organ limited to merely providing an input to a physical object?
The next time you pick up and hold or touch anything with your fingers, close your eyes & let your fingers feel it. You'll notice something, I am sure. Dwell on that feeling, try to understand what that feeling is telling you–let your sense of touch transport you into a world that deepens the meaning of that object for you. Oftentimes, studio potters' works will have unique impressions on their pieces–be it a thumb impression, throwing lines, or trimming textures. Let those impressions transport you to the conversation that potter would have had with clay as they together created your beautiful piece, made to last forever. 
Perhaps this could be the starting point for you to start paying more attention to your sense of touch, and you never know what else will unfurl from that moment!