My Evening Tryst
8 September 2023
Listen to this story. Narrated by Amrita Amesur.
The hour of dusk is about to strike, presenting a most opportune moment to slip away for an evening interlude. The possibilities are endless as I descend from my apartment building into the neighbourhood. After a brief, heavy bout of rain, the air outside is transitioning from the stress of the day into a languid slowness as the heat of the afternoon mellows. A frangipani tree lightly scents my path as I walk past a tangle of almost wild city creepers entwined around phone cables.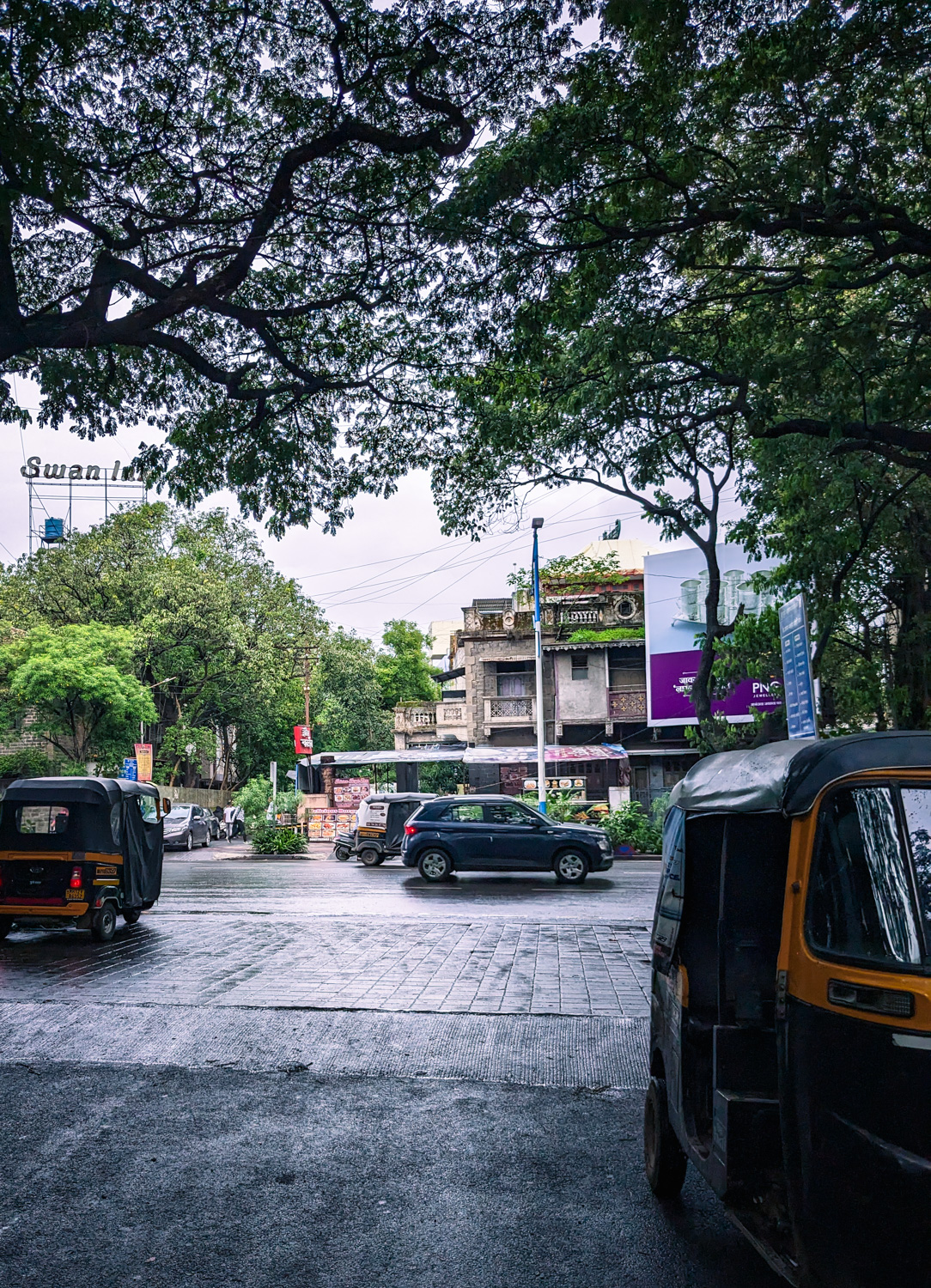 My body craves and greedily drinks in that last bit of warm sunshine that eluded me this morning, convincing my mind that the circadian rhythm of my body is balanced and kicking. It has been a tiresome day of banal routine tasks. Nothing felt more depressing than seeing the sun set through the prison of grated windows. Deep, joyous breaths follow as I step out the door, my feet finding their balance after sitting all day (the new cancer, they say). Of course, the thoughts of delectable evening snacks, latent but imminent.
Jaunting along and minding my own business, the olfactory is entranced with sharp smells of besan battered bhajiyas and batata vadas hitting the vat of scalding oil. My eyes catch a sole incandescent lightbulb merging with the drowning sun in the back, illuminating the thaal of crispy bits. The laadis of fresh pav sit lovingly next to it exuding yeasty warmth. Somewhere in the back, cardamom scented chai is slowly brewing. That very deep fried and quickly salted pile of whole green chilies unleashes an almost dry pickley-briney piquancy, as I pass by. It's just rained, and the moment couldn't be more ideal to indulge. Memories of yearning for these smells come flooding back, jarringly reminding me of the two years I spent away from home and in deprivation thereof of these most democratised scents. Even still, I successfully resist the urge to apply them to my face and keep walking, eking out whatever satisfaction I can from my sniffer-y alone.
A signal crossing and unpleasant evening's office return traffic later, calm returns as the lush trees heaving with trapped rainwater start to surround my path again. The water fountain along the chowk that mostly runs dry is now flourishing with sharp lighting, hydrated as could be. My legs are just about getting their stride and moving in unison with my mind. The sea breeze eases my anxious rigmarole of thoughts. Fresh produce vendors pile fat stacks of dhania, methi and palak, readying up before the vultures of evening shoppers descend. Some are already inspecting and sniffing through the produce but buying absolutely nothing.
All of these stimuli have me thinking about something I read the other day about Puritans, who apparently abolished all sensory pleasures in the 16th and 17th centuries. Pleasures of the palate became suspect and all indulgence was deemed sinful. Plenty of philosophers from Plato to the Stoics have denounced sensory pleasures, instead regarding them with indifference. But what do they know, these guys never experienced the magnitude of sensory pleasures of chaat from the streets of urban India. The lure of umami black salt laden chaat masala that graces every morsel in a perfect balance of flavours, tickling the palate. They know not of the pungency of fresh mint "paani" flooding the mouth as the puri shatters. The immensely light layers of sev, batata and papdi with a blanket of khatta, meetha, teekha chutneys and the final snowy mound of fresh whipped yogurt that sits in suspended animation atop a teeny tiny quarter plate, defy any logic and tenet. 
As if on cue, in the distance I see a red cloth covered matka embracing the cool-as-earth paani. Steam rising gently from the turmeric coloured ragdaa made with roundels of peas, simmering at the ready. Various clear bags holding all manner of crispy, crunchy accompaniments. Puffed rice kurmura and tiny circular disks of inflated puris taking centre stage. A throng of patrons waiting their turn as the evening hunger pangs strike. Having just walked past my last evening snacking option, I'm plenty impatient myself with no intention of being Puritanical. Divinity of banned sensory pleasures is palpable.
While my brain contemplates its hunger pangs, my body has decided and before I know it,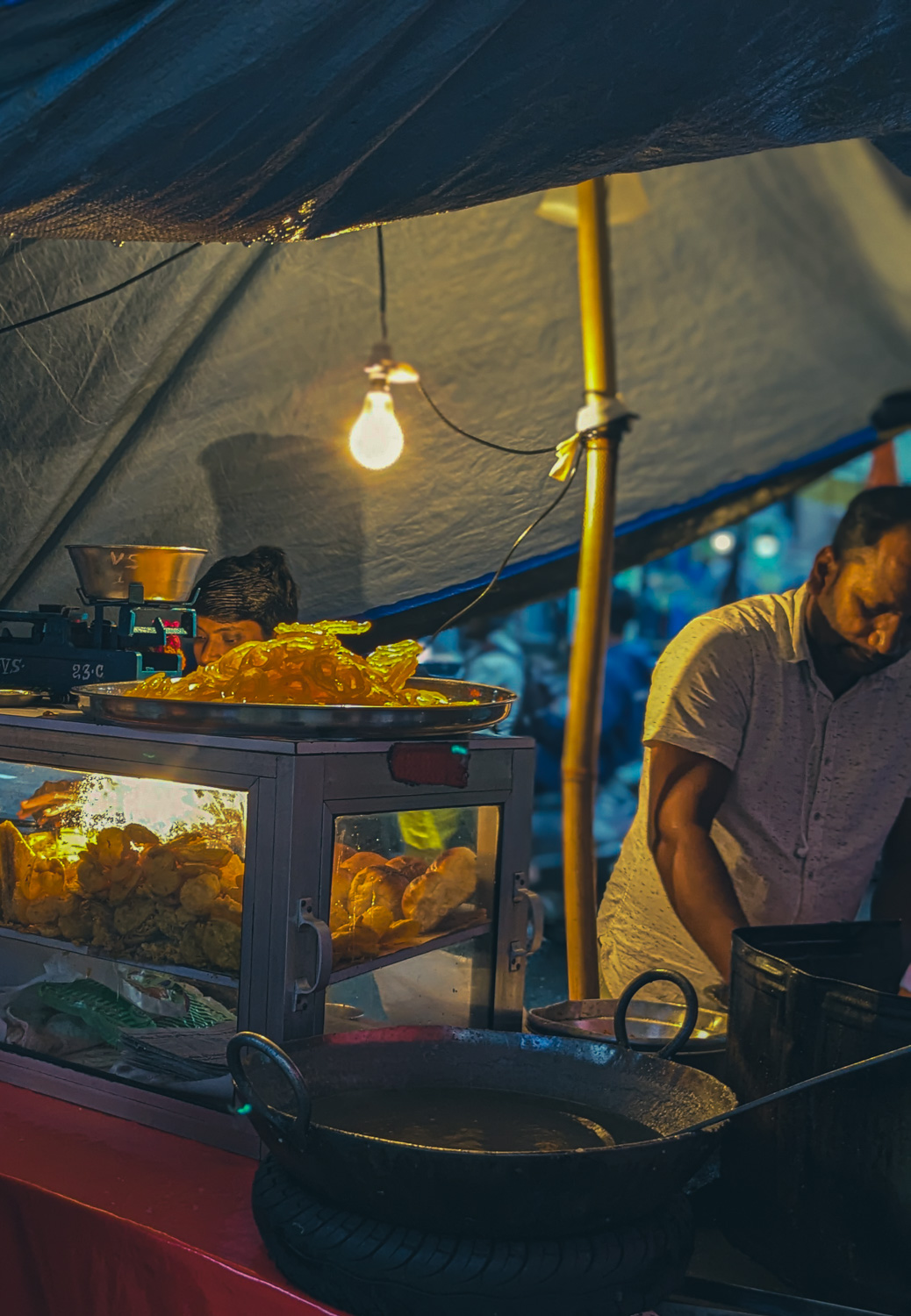 "Bhaiya ek plate dena please, thanda paani aur aloo boondi ke saath."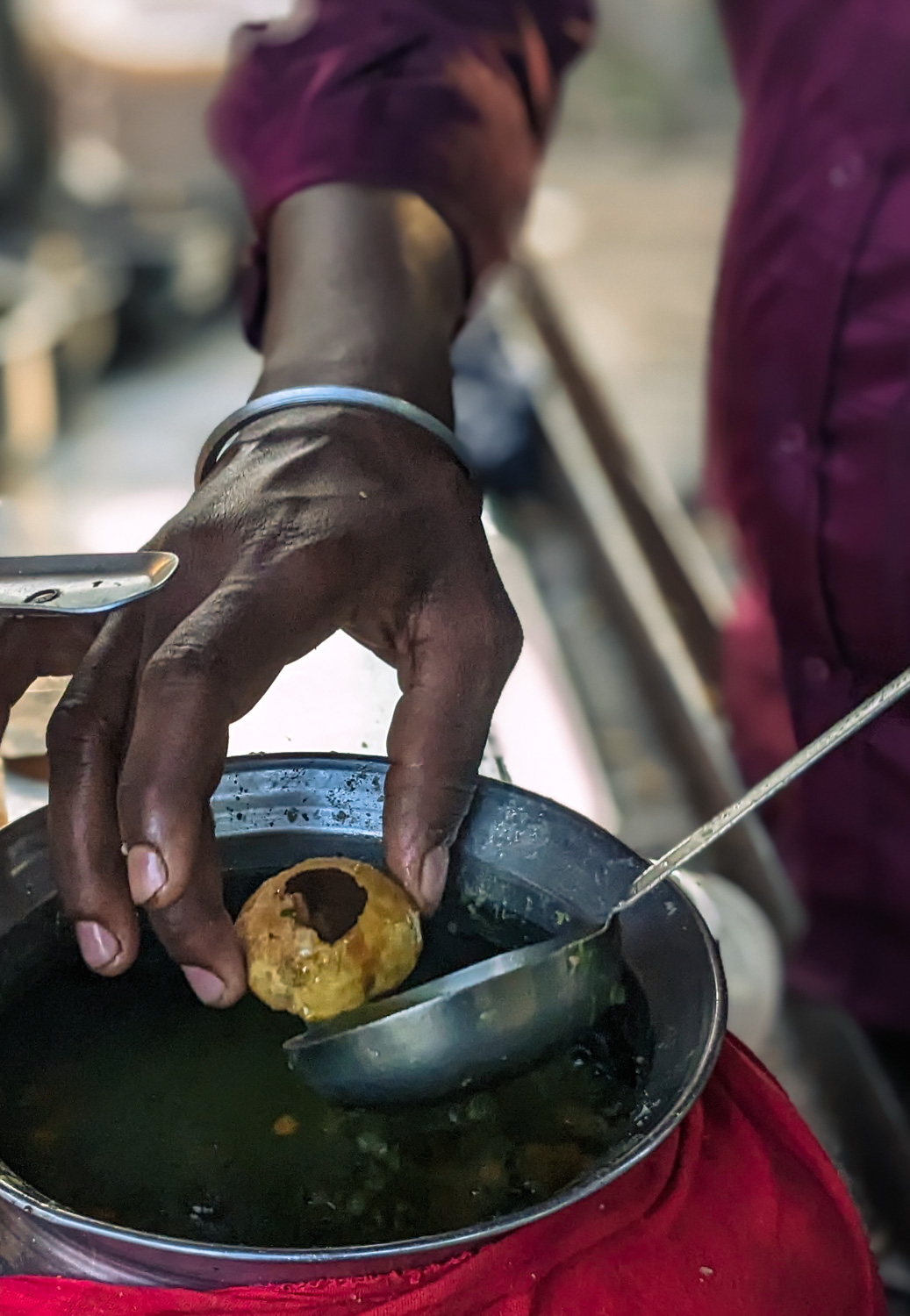 Necessary instructions to ensure no warm ragdaa gets anywhere near said puri, are disseminated. Before you call me a snob, you must know that discernment in one's chaat preferences is not just commonplace but essential for enjoyment. A very much taste-and-adjust as-you-go, situation. 
A whirl of puri poking, filling and drenching with paani and its finally in my gob. A cacophony, a burst dam of sweet, savoury, salty and puckering sour. Crunchy puri, soft salty aloo boondi having drunk up the sweet date and tamarind chutney and floating in the green minty black salt water. Served in its own crunchy edible vessel. A perfect food group, as it were. The dried ginger and chaat masala in the paani hitting the back of my throat. All prepared à la minute. Obviously. 
The intimacy of this instantaneous back and forth is not lost on either party. I take my time between each serving to study and observe the path to my own satiation. He waits patiently as I finish, to fashion the next piece in exquisite rehearsed harmony. By the end of the fifth puri, we understand each other's palates, fine-tuning the sweet vs pungent vs texture as we go.  A bonus masala puri filled only with soft mashed potato and chaat masala is handed to me to promptly inhale. A salty and comfortingly bland palate cleanser to calm the activated senses. The coda to this symphony, if you will.
The skies now emit an aurora of deep purple, orange and blue. I walk away feeling a little more alive, a little less indifferent to the world. Holding onto the almost hedonic sensory eating experience crafted just for me. Calm envelopes. Smiles are easier. The banalities of the day meet their consummate purpose. Satisfaction prevails.