Rooting for Nature
2 January 2023
Roots are a tangle between time and life.
They hold back slopes of soil formed over millions of years from flowing down, allowing life to thrive. Without them, our mountain ranges and plateaus would have long eroded into the seas. 
They stock time in their grip–as though time were fluid.
Millions of years later, after evolving their capacities to grip and hold soil, these properties are turning out to be the most critical of services they could render in current times. It is in the steepest and most inaccessible of places that the maximum diversity of life now remains. These are the last bastions of hope for the survival of hundreds of thousands of species living in the ecosystems supported by these roots.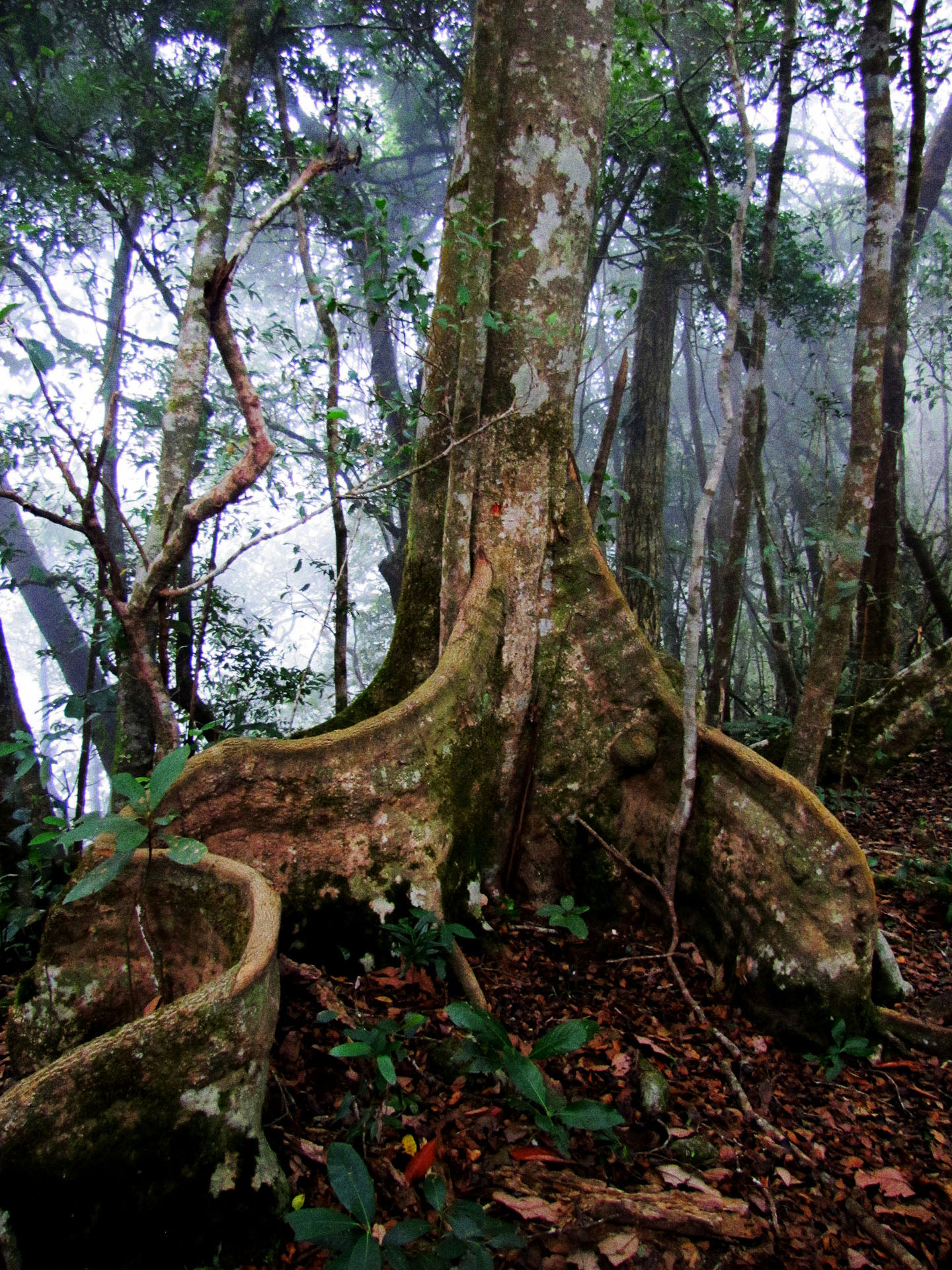 Roots are also where time is converted into life in the form of streams and rivers. The roots of mountain soils actively create conditions in the ground that help absorb and release water slowly, creating perennial streams and rivers. This adaptation is best seen in the perennial tussock grasses of the world's mountainous regions. Studies have shown that their roots can penetrate up to fifteen feet below the ground. A portion of these dense fibrous roots decompose each year and help build up organic carbon in the soil. This, in turn, helps the soil absorb and store large amounts of water and release it slowly over an annual cycle–like giant sponges, defying the law of gravity. Over centuries, the actions and life cycles have helped create thick soil layers that often reach depths of up to forty metres, on mountains. This way, it is actually the roots that help create and sustain mountain slopes. Roots treat soil as the most precious material on the earth's crust.  They do their best to retain it and create growth mediums wherever possible.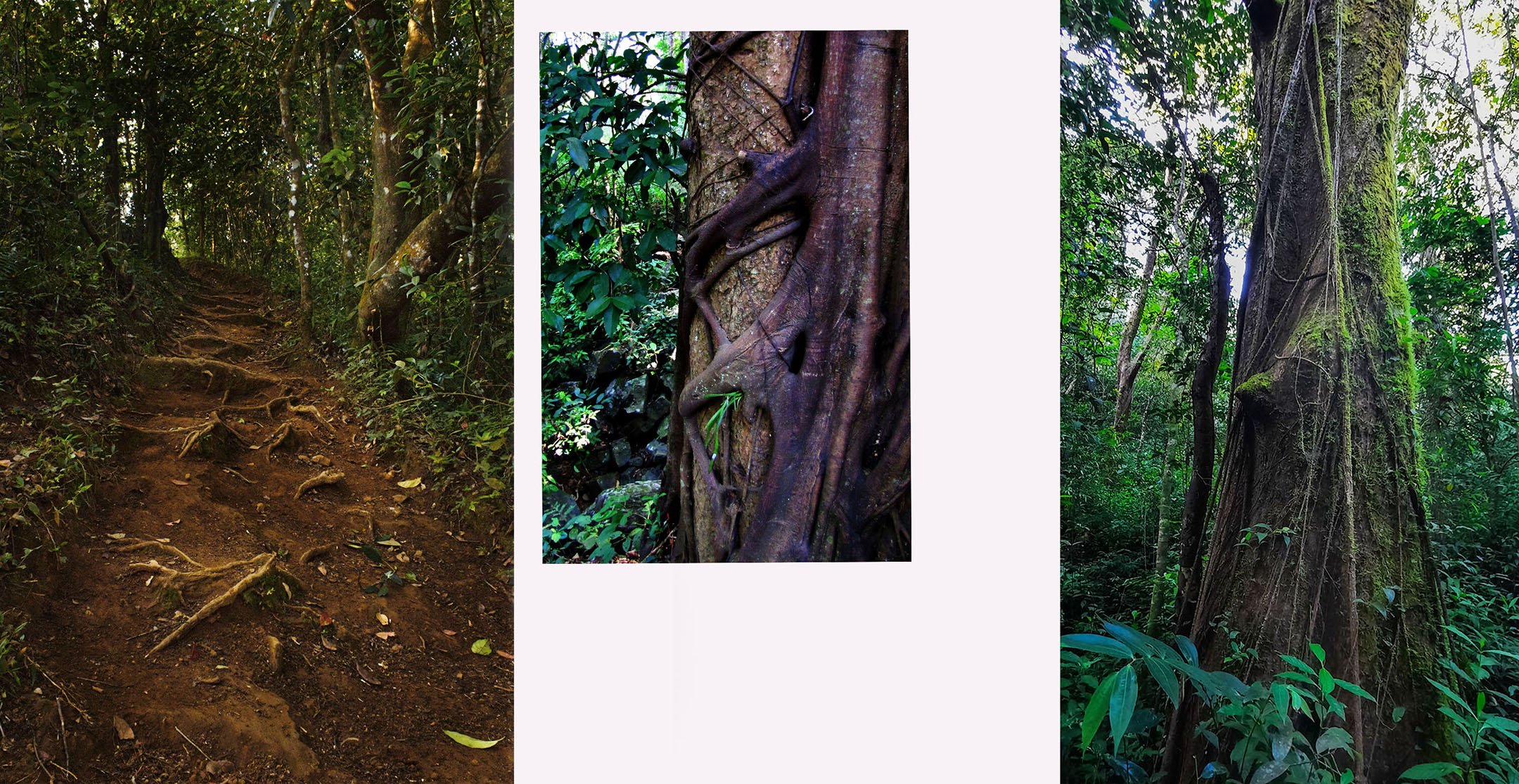 In parts of the Western Ghats' high-elevation plateaus, such as the Nilgiris, the soil erosion and denudation rates over millions of years, are some of the lowest in the world, despite the heavy rainfall these areas get. This is because the capacity of plant ecology and its root systems here are so specialized in both retaining water to serve as sponges, while also retaining all the soil virtually intact. The soil that does manage to flow down each year, is deposited on the mouths of rivers that then form deltas. Before reaching the seas, they are again carefully trapped by different types of plant ecology downstream to maximize the potential for life to thrive. Even at the end of a river's journey, the excess soil is held by specialized roots that live under low oxygen exchange and brackish water conditions – the mangrove roots. Mangroves are transition ecosystems, from terrestrial to aquatic, and some of the most productive in supporting biodiversity. They are crucial nurseries for diverse aquatic and avian life and even serve as barriers to prevent loss of inland ecosystems during cyclones and storms.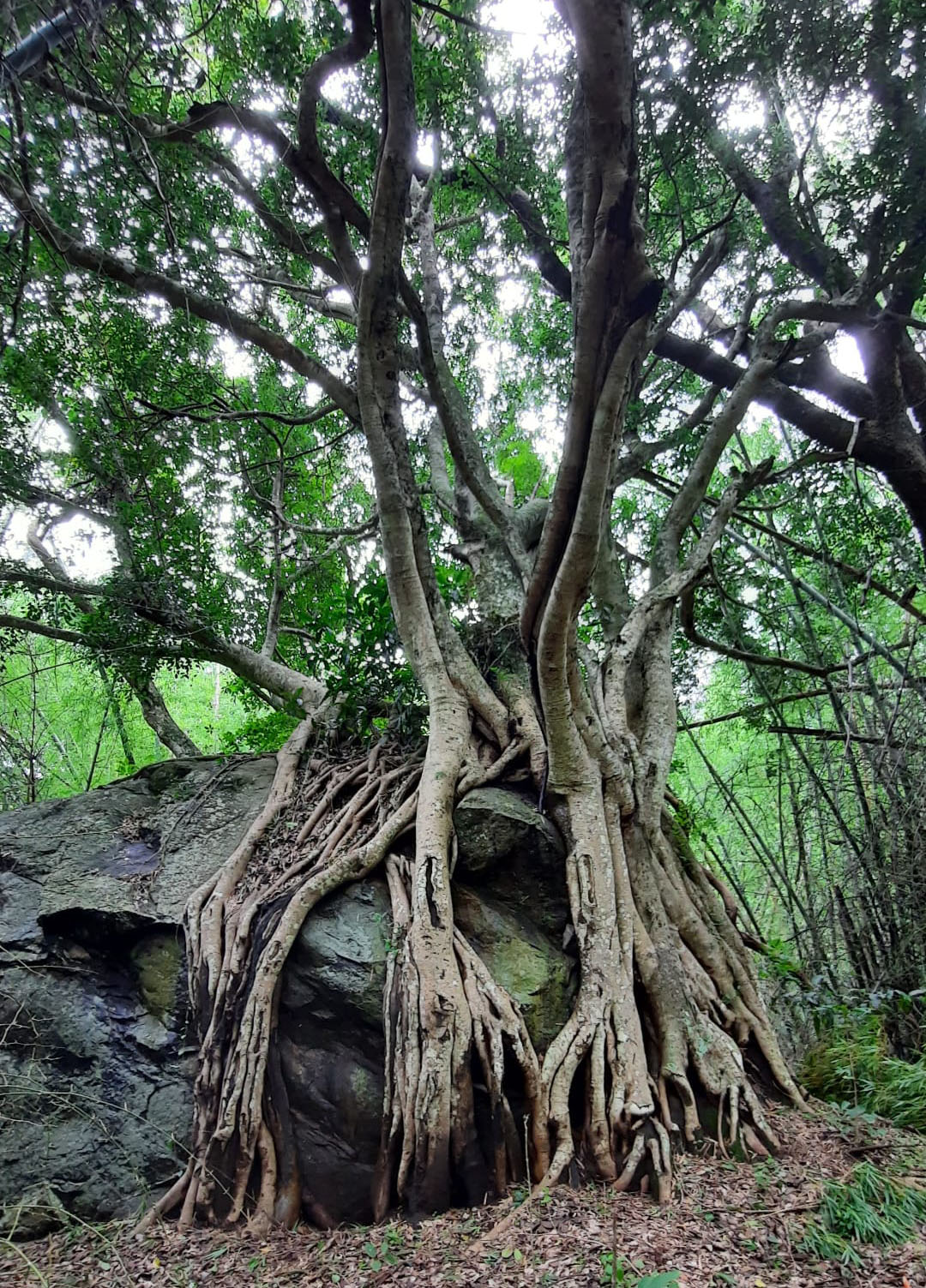 While roots see soil as the most precious commodity on earth, dominant human society's structures treat soil the opposite way. Deep layers created, preserved, nurtured, and enriched over millions of years, have been washed downstream in drastic amounts over just the last 200 years. Perennial communities of roots have been pushed out systematically to be replaced by structures of the agro-industrial complex. These complexes constantly suck out materials they crave, while concentrating toxic materials in the soils trapped in their clutches.  In a natural plant ecological community, roots play a critical part in providing the structural diversities for life to thrive. In the same forest, incredibly strong roots are seen growing together with minute and delicate ones. Roots of giant rainforest trees, like that of the Elaeocarpus tuberculatus tree in Agumbe, can grow into buttresses over ten feet tall, supporting trees often over 150 feet tall. On the other hand, roots of certain ferns like the Osmunda hilsenbergii, which grows on the banks of streams, can be as fine as silk. Roots can hold massive boulders in place, growing around them over centuries like the Ficus virens trees in the riverine belts of Mudhumalai. At the same time, they can also grow in spaces with less than five millimetres of soil supporting plants like the minute Utricularia purpurascens insectivorous plants on the wet rock faces of Rajgad near Pune, in the Western Ghats. Roots are almost fluid, taking the shape of whatever amount of soil they get. Given the space, they are quick to cover every square inch extensively; yet they always only support more and more life. Roots not only resemble nerves; they are equally– if not more–receptive and intelligent. In order to stabilize humidity within a shola cloud forest, the roots of montane shola forest trees can sense minute changes in the environment. Accordingly, they control the amounts of water absorbed from the soil for controlled evapotranspiration. Similarly, the roots of tropical trees can sense the levels of moisture at various depths in the soil to perfectly time the tree's growth. Already mature trees in old-growth forests are careful to use stored water in deep soils and only put out new leaves during the peak dry season. They allow surface water to be used by the younger plants and help maintain the hydrology that keeps the streams and rivers flowing out of these forests – perennially.  Roots have an incredible life force that defies our understanding of resilience. Tussock grasses can get burnt to the ground, grazed till every millimetre of their tillers is provided as food, yet each time, they come back with vigour. These cycles can go on for centuries–and rootstock can be alive for hundreds if not thousands of years.
Similarly, the roots of epiphytic plants, like certain orchids, defy our understanding of chemistry by sustaining the entire plant and producing brilliant flowers of various shapes and colours while sieving nutrients only from thin air and the moisture around them. Trees and plants communicate via their roots and other life forms, such as bacteria and fungi nurtured through symbiotic relationships. Mother trees pass their knowledge and even nutrition to younger trees via their roots.   Roots do constantly take from the soil but know how to give back to it in a way that continually improves the ground. Modern civilization, as we know it, has done the opposite–with rampant extraction from the earth's crust. Just recently, the total mass of all man-made objects crossed the entire biomass on earth! Within just 200 years of civilization, we are struggling to predict patterns needed for the survival of our species and the countless number of species that are going extinct every day as a result of the rampage. We can hardly begin to address the toxic waste being generated, let alone live in ways that can improve our surroundings–like roots.  Even when working to help lands regenerate, we resort to the genius of roots. Working in the field of rewilding, one knows that one of the most powerful forms of interventions is to hold back our interference and allow space for nature to regenerate and the buried roots to spring back to life.   In these times of widespread collapse, the term 'being rooted' needs to mean that we allow roots to re-colonize and do their work; and learn how to find our place in the tangled forest of life and time.