The Art of Perfume
29 October 2023
Flowers are the heart of perfumery, and smell is the most ancient of our senses. 
Watch a newborn lamb sniff its way to its mother and you will understand why we inhale and smell in a way that is primitive…primordial. 
Smell is our root – a connection to comfort…mother and land.
A smell is different from a scent.  The earliest scents were rolled incense which we humans smoked to carry our prayers to God.  Scents were our medium of worship and the person who  creates them, therefore, is a shaman.  He is a medium, a seer.
In India, our ancient rishis, our sages, were called "seers" because they could see entire universes.  In Sanskrit, we say that the Vedas are "apauraseya," or without creator.  They were "heard" by the sages who viewed themselves as mediums for messages from the cosmos.
A perfumer is this way.  Not only because he draws upon the elements for inspiration but also because at his core, much like all creative people, he is a medium for a message.  He is a shaman who combines elements in lovely and surprising ways. He assembles and mixes specific scents into something that is desirable, even magical.  And what a wonderful thing that is for those of us who can wear these creations.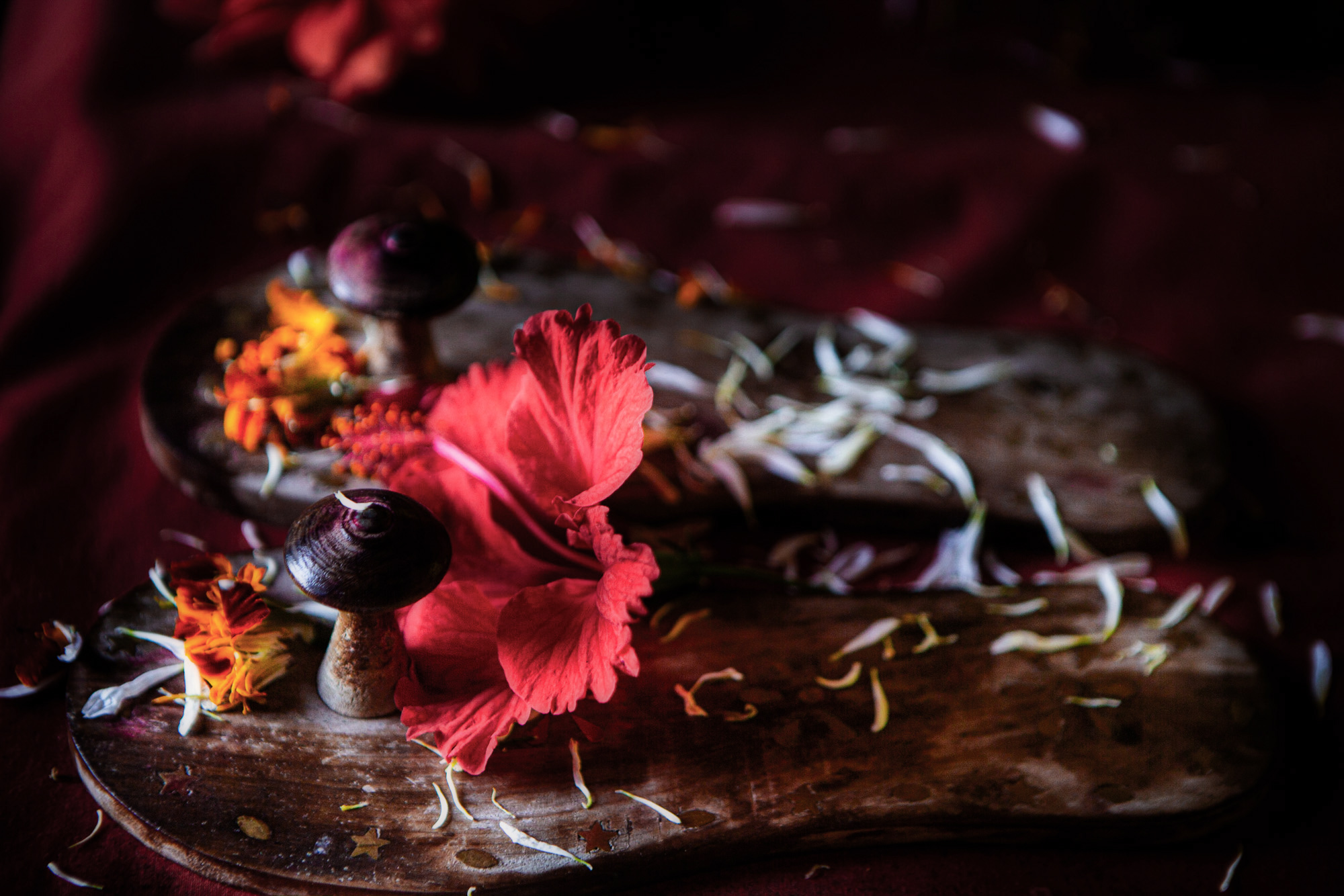 What do you look for when you sniff a perfume? Most of us cannot articulate this because scents and fragrances reach into the bone marrow to the place before language began.  When I sniff a perfume, I wait for a calling, a longing, a yearning, that I feel in my veins.  I wait for the scent to embrace me and hold me in its mystery and magic. I ask whether it is the one that I should receive in my body, mind and soul.  
When I sniff this scent, I wonder whether it will become my kavacha, or body armour, fueling my passions and protecting my core.  Or whether it will be a sail, taking me with the wind to new places.  
So yes, when I smell a scent, I am having a conversation– with the ingredients and with their creator.  I want to know if the perfumer "gets" me. I want to know if the perfume that he has created will give me what I want at that moment in time– because after all, each of us is attracted to different fragrance profiles at different stages in our lives.  And I want to know if the perfume will speak for me.  Because really scents do what words cannot.  They articulate messages without saying a word.
Scents are memories, which is why we adore them. They can take you to a citrus tree on a salty beach; to crushed ginger that is poured on the root of a tree, to the vetiver root that protected you as a child from summer's scorching sun, to musk and mushrooms that soothe your wounds with rubies and enchantment.
Cities are smells, as the late poet Mahmoud Darwish said.  Madurai is the smell of petrichor, tuberose and fat jasmine flowers that release their scent to the supple fingers of women at dawn.  Mysore is the scent of sandalwood, vetiver and pink roses that wink at you from the market.  A perfumer inhales all these smells to create his signature fragrance that is as much an offering as it is a creation.
If there is one siren who stirs the passion of all perfumers, it is, of course, nature, in all her bounty and beauty.  There is the beauty of mountain rocks– the malai kal as we call it.  There is the strength of cumin and spices that feed and nourish us.  There is the smell of wet earth and panting dogs.  The smell of your reflection when you are sad.  What about tamarind and ginger that come together in Indian kitchens? The night musk that women wear under their ear lobes before they screw on diamond earrings.  What about the scent of your mother's saree that rustles and holds within it, a thousand stories wrought from history and nostalgia?
A scent is a map of your past, present and future. 
It is sensual panting, a painting that captures your silences. 
It guides you in ways that you cannot know or fathom.  A scent therefore is an expanse of your emotions compressed into a bottle.
Scents are a museum of memories.  They take you into the spaces that you have lost and found.  A sugarcane field, a sprig of davanam tied into a jasmine garland, crushed mint sprinkled on tea, these are all scents that guide you into distant lands that you have purged from your consciousness.  Whatever you have lost needs to be remembered, found, worshipped, retained and resolved.  This is the power of scent.  It makes you whole.
So then the scent laboratory, where one person– the perfumer mixes these ancient strong ingredients into potent reminders of what is possible.  These perfumers inhale rain, they hold the moon and the sun within them to restore feelings that have been broken by Mother time.  They carry shadows and imagination, both yours and mine. And they mix.  They try to make the whole bigger than the potency of the parts.  Because mixing is where the magic happens.  A rose can hit you with the force of a sledgehammer.  But mix it with musk and it becomes a gentle violin.  A tuberose has waged wars with primitive weapons, but mix it with citrus and it sings.  
Scents take you home.