Issue 6: An introduction
12 September 2023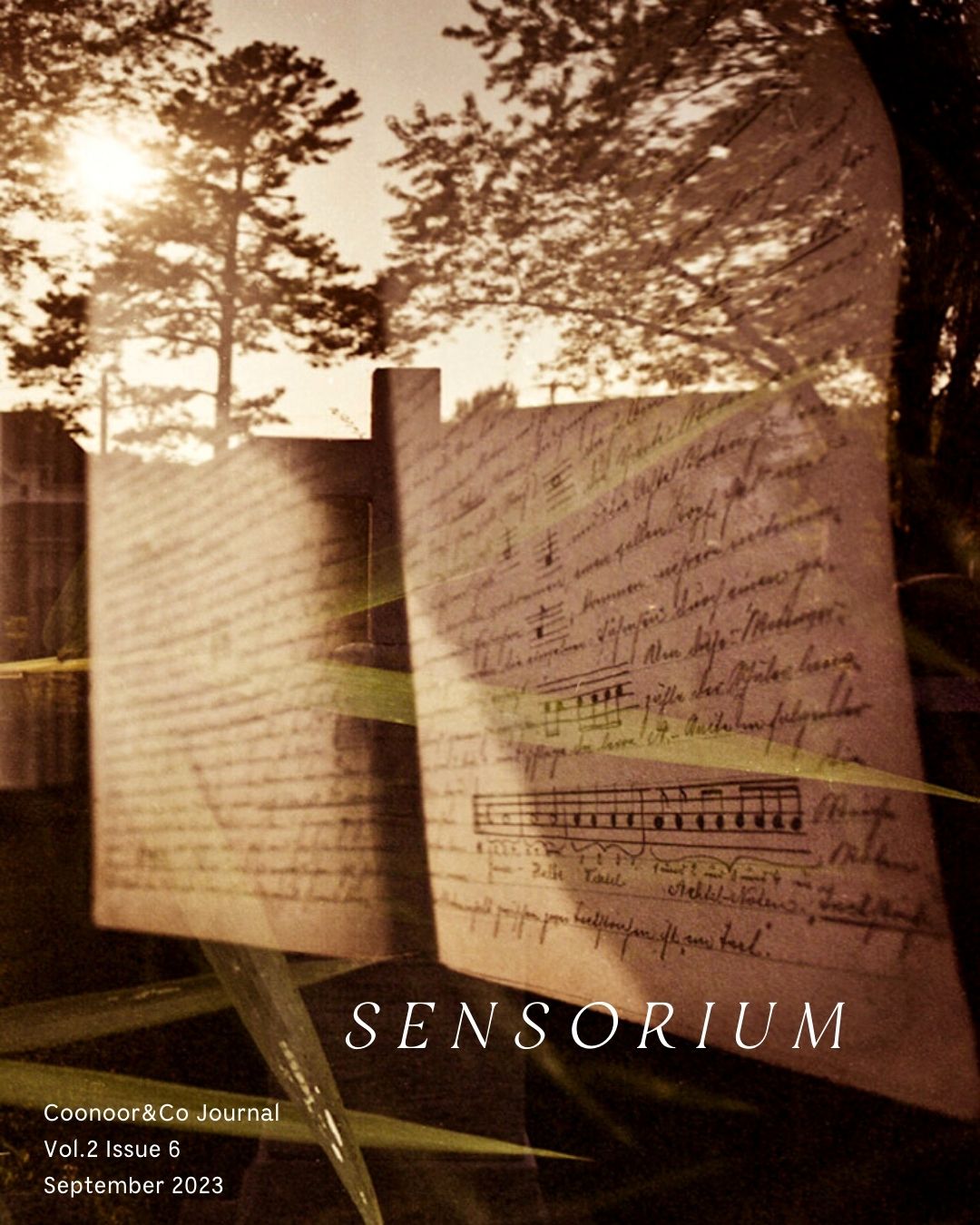 Welcome to the Coonoor&Co Journal, Vol. 2 Issue 6
In this experiential issue titled "Sensorium", we go beyond the ordinary to explore the captivating realm of sensory experiences—sight, sound, taste, smell, and touch—that define our daily lives. What is existence if not a ceaseless dance with our environment? Moment to moment, we interpret light as colours and images, discern music from noise, unearth flavors that delight the palate, encounter scents that uplift or overwhelm us, and discover new worlds with our fingertips.
As this issue arrives during the monsoons—a season full of sensory richness—we invite you to explore our carefully curated stories. Let the smell of wet earth, the sound of rain, and the brush of humid air enhance your reading. Additionally, if you prefer to listen, the stories are narrated by the authors who penned them.
Our contributors for this issue are:
Amrita Amesur, Namrata Baruah, Anjalina Chugani, Ranu Jain, Shayne Lynn, A.J. Mallari, Shoba Narayan, Sindhoor Pangal, Anisha Rachel Oomen, Ramya Reddy, Toshi Singh, Prabhu Viswanathan and Olaf Willoughby
In "The Alchemy of Photography", Olaf delves into the transformative power of visual perception. Through the lens of both ancient alchemy and contemporary photography, Olaf suggests that the true essence of creativity lies within our own internal "sensorium". He nudges us to tap into our unique ways of "seeing", while also acknowledging the ever-changing technological tools like AI that impact our sensory experiences. Olaf's essay is a compelling guide for anyone eager to navigate the intersections of art, technology, and human senses.
Standing on a sunset shore, A J Mallari recounts encounters with crabs and "toasting oysters" that lie cooking with "the last bit of sea bubbling inside their shells". He immerses himself in a tapestry of smells, sounds and colours, swapping clams for crabs, even as he captures the essence of age-old foraging festivals, while observing their impending fade due to environmental shifts.
According to Sindhoor, "the dog is a creature of the nose". With this assertion, she guides us through a world perceived through the dog's olfactory sense. This enlightening piece, an excerpt from her book "Dog Knows", published by HarperCollins, is rich with facts and sensorial interplays between animal and object. Unabashedly dog-loving, it also introduces innovative ways to lessen the modern world's negative impact on our furry friends, making this a "'sniffari" you won't want to miss.
In a lush olfactory tapestry, Shoba weaves together the intricate, intimate relationships we hold with scents, describing them as a "museum of memories". From the mystical aromas linked to ancient rites to the distinctive fragrances that define cities like Madurai and Mysore, her exploration is a vivid sensory journey. She delves into how scents act as compelling maps to our past, present, and future—conjuring images from "musk and mushrooms that soothe your wounds with rubies and enchantment" to the vibrant zest of spices and damp earth. It's a quest for scents that "sing", fragrances that "take you home".
In a warm exchange, long-time friends Hariharan and Prabhu delve into sound, music, and the resonance of memories. This conversation offers a fascinating glimpse into the man behind the renowned performer. They journey down memory lane, touching upon seemingly innocuous events that, viewed through the lens of time, become richly meaningful. Hariharan speaks of his devotion to riyaaz and recalls days when cricket, football, and singing were everyday activities. To round off this nostalgic exchange, he bursts into an impromptu rendition of one of his cherished songs.
From Barcelona to Bangalore, masala chai is not just a delicious brew; it's a voyage through nostalgia, balmy days, and charcoal skies, encompassing both family and solitude. In this poignant account, Anjalina expresses her unwavering love for tea and its ritualistic preparation across continents.
Ranu's photo essay explores the meeting point of poetry and photography–two art forms that make us pause and feel the world anew. Drawing from the works of Mary Oliver and Henri Cartier-Bresson, she also takes a cue from Indian poet and lyricist Gulzar, who masterfully employs synaesthesia. She explores how these mediums encapsulate the essence of the present, prompting us to unearth fresh interpretations in the everyday.
The sense of touch serves as the foundation for Namrata's intimate essay. She explores her evolving relationship with clay, described as a "beautiful, porous object of the earth". Starting from a place of mild detachment, she traces her journey to forming an unshakeable bond of love with the medium of pottery. She sees this deepening relationship as a transformative partnership, a life-changing journey toward mindfulness and rejuvenation.
As a languid evening approaches, Amrita delves into a "chaat" adventure, enlivened by bhajiyas, fresh pav and a medley of khatta, meetha, and teekha chutneys, with paani puri serving as a captivating highlight for her palate. She beautifully muses upon the exceptional ingenuity of chaat to engage each and every sense, even unlocking the enigmatic essence of umami.
Three photographers—Ramya from Bangalore, Shayne from Vermont, and Olaf from London—were united by a compelling vision. Each shot the same five rolls of film, capturing the essence of spontaneity without pre-visualization. The creation of "Confluence" was beautifully chaotic, yet the resulting triple exposures unveiled an unexpected harmony, yielding rich, multi-layered images steeped in mystery.
Thank you so much for being a part of our reader community. Do subscribe to our newsletter if you wish to receive our stories and updates as monthly compilations. We look forward to your continued support of our work.
Love, Team Coonoor&Co